PhUnC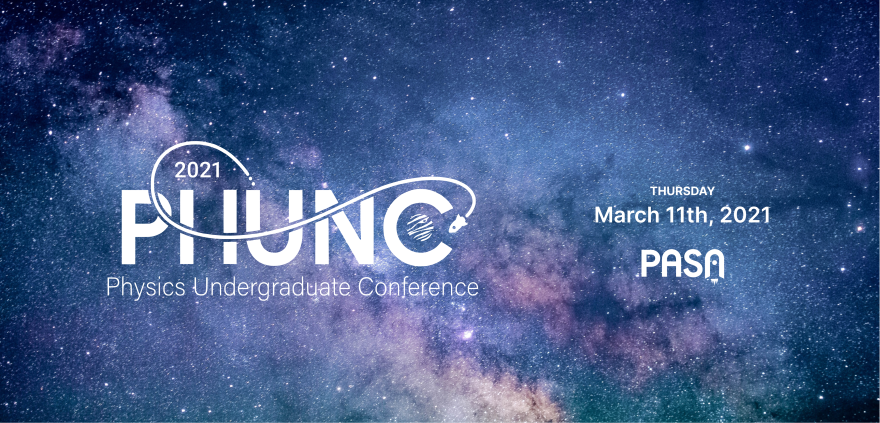 What is PhUnC?
The Physics Undergraduate Conference is an annual event organized by the Physics and Astronomy Students' Association (PASA) at Western University, for students to come together, explore future careers, and celebrate their passion for physics. Throughout the day, students will participate in various events such as poster presentations, oral presentations, a keynote speaker, virtual lab tours, and physics trivia.
Who is invited?
Undergraduate students present their work on a summer research project, honors thesis, or any physics topic of interest, including interdisciplinary physics research. The conference includes nearby universities in Southwestern Ontario and across the border.
Registration
The conference will take place online on Thursday, March 11, 2021 from 9:00am - 6:30pm EST. Our keynote speaker will be Dr. Stephanie Simmons from Simon Fraser University. The schedule for the day includes a welcome speech, poster presentations, a keynote speaker, virtual lab tours, Q&A with current graduate students, physics trivia, and awards ceremony!
Registration to present a poster or give a short talk on a research topic is here: 
https://www.eventbrite.ca/e/phunc-physics-undergraduate-conference-tickets-143007436091
Prize Details
Each presenter (oral or poster) will be considered for PhUnC's best presentation prize; the winner will have an opportunity to hold a summer research position in the Department of Physics and Astronomy at Western University. Available projects and supervisors are listed within Undergraduate Research Projects . 
Contact: p-a.pasa@uwo.ca