First Year Laboratory
Students from eight different courses (Physics 1101A, Physics 1102B, Physics 1201A, Physics 1202B, Physics 1401A, Physics 1402B, Physics 1501A, and Physics 1502B) attend the First Year Physics Laboratory. Courses may be divided into multiple lecture (LEC) sections and lab (LAB) sections, with the lab sections further divided into sub-sections (A/B/C/D). Please consult your course outline and lab schedule for more details.
Laboratory Manuals
You can buy the first-year physics laboratory manual package from the  university bookstore . These may be sold as part of a course-material bundle, so search for your course on the bookstore site and consult your course outline.
Lab Contact
For all Laboratory related questions and concerns, please visit Western Help Centre - Physics and Astronomy to create a ticket. Your request will automatically be directed to the most appropriate resource.
Laboratory Supervisor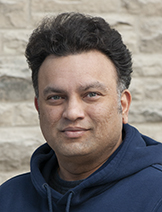 Dr. Shailesh Nene

Phone: 519-661-2111 Ext. 80541
Room: M 2203, Materials Science Addition
Frequently Asked Questions
Students from different courses, Physics 1101/1102, 1201/1202, 1401/1402, and 1501/1502 attend the First Year Physics Laboratory. Each laboratory section is divided into four laboratory sub-sections, A, B, C, and D. For example, the laboratory sub-sections for Physics 1101 and lab section 003 are given as 1101-003-A, 1101-003-B, 1101-003-C, and 1101-003-D.
Your lab section can be found on your course schedule sent to you by the UWO Registrar's Office, or by checking your Personal Timetable on the UWO Registrar's Website.
Class lists divided into A, B, C, and D subsections, with details provided on your  course  OWL site.
This information can be found on lab OWL.
Lab schedules can be found on your course  OWL site.
Before coming to your first laboratory, you need to :
Buy the First Year Physics Lab Manual package/book from the UWO Bookstore.
Read Notes to Students, found in your lab manual package, or by following the link to lab OWL.
Check your Western email account at least once a day. We reply only to your student email account assigned by UWO. Update your local London address and telephone number on file with the Western Office of the Registrar.
Read the Measurements lab manual found in your lab manual package.

For the Measurements Lab, complete the online quiz on your course OWL site.

For all other labs, read the corresponding lab in the manual, complete the pre-lab quiz on OWL, print and bring the worksheets along to the lab.
See Contact Information (above) or lab OWL.
Select ONE lab partner to work with you in the lab. Select your partner from the same sub-section ( A, B, C, or D) as you are in because all the students in one sub-section will do their labs in the same lab room. You may change your partner at any time.
You may be eligible for exemption from the laboratory if you have completed the laboratory within the last three years. Please consult your course outline and contact the lab supervisor (details above) if you have any questions.
Read the guidelines for writing lab write-ups which is posted on lab OWL.
All the lab worksheets must be submitted to Gradescope for marking. Your grade will be updated there before the beginning of the next lab. 
We keep a lost and found box in the lab. Please see a lab supervisor or a demonstrator during lab operating hours.