Internship Highlight: Sean Pentinga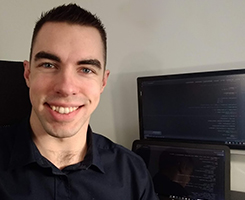 Sean Pentinga (Bsc'19 Honors Specialization in Physics and Minor in Computer Science).
Sean spent his first three years at Western studying astrophysics and then took the next year off from studies to complete a 16-month internship with the Science Internship Program. His placement was at the London Regional Cancer Program under the supervision of Dr. Aaron Ward. There, he researched the effects of a new form of lung cancer treatment and presented work at various scientific conferences.
About his internship, Sean says, "the experience was enriching, rewarding, and helped embellish my degree greatly. Upon my return to school to complete my fourth year I changed my degree to physics and decided to add on a fifth year to complete a minor in computer science." Currently, Sean is now working in the IT field in Toronto. 
More Internship Testimonials
Summer research positions are an important part of any undergraduate career. The chance to assist a professor in their research, learning about a topic in more detail than is possible in a classroom setting, is always a rewarding experience.
Last summer I had the opportunity to participate in a really unique experience. Dr. Pranawa Deshmukh was visiting from the Indian Institute of Technology Madras (IITM) and after a few discussions about his work, myself and another student were offered a position over the summer to work here at Western for 2.5 months followed by a 6-week internship at IITM where we continued the research we had started at Western and got the chance to work with the research group there on other projects.
The chance to travel to India was exciting in and of itself, but traveling there work on a new research project in atomic physics was really amazing.
- Jim Nicholson
---
I did a summer internship at the University of Saskatchewan due to a partnership Western has recently developed with them. I contacted the supervising professor with a letter of interest and was accepted to take part in a project developing organic photovoltaic devices.
My experience was very informative: I was able to learn and practice a variety of valuable technical abilities among a group of highly competent and motivated individuals. This project both built upon and deepened my existing classroom knowledge into a marketable skill set applicable to a rapidly growing branch of physics.
I found the internship very rewarding as it helped me see how physics is taught and performed in a different environment. Furthermore, I was exposed to a number of experts in the field, extending my network of contacts and broadening my array of potential career paths. I would recommend this program to any student open to travel and wishing to elevate themselves above the crowd of future applicants, whether in industry or academia.
- Miguel Young