Tamie Poepping, Professor
Tamie Poepping, Professor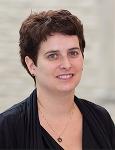 Contact Information
Office: PAB 236
Tel: (519) 661-2111 x86431
E-mail: poepping@uwo.ca
Research Areas
Ultrasound techniques
Hemodynamics
Vascular disease
Particle image velocimetry
Lumped parameter models
Microfluidics
My research focus is the development of ultrasonic techniques for non-invasive imaging and flow visualization, primarily to elucidate the connections between vascular tissue changes and local hemodynamics. The development and progression of vascular disease involves an inherent feedback loop whereby local hemodynamics (e.g. oscillating shear) affect tissue changes (e.g. plaque development), which in turn affect the hemodynamics (e.g. turbulence). Hence, to investigate the role of hemodynamics in vascular disease, it is important to be able to map out and characterize the local hemodynamics relative to the tissue geometry and composition (available through various imaging modalities, incl. ultrasound), as well as follow any correlated tissue and hemodynamic changes.
Kefayati S, Holdsworth DW, Poepping TL. (2013) "Turbulence Intensity Measurements Using Particle Image Velocimetry in Diseased Carotid Artery Models: Effect of Stenosis Severity, Plaque Eccentricity, and Ulceration." J. Biomechanics (accepted Sept. 2013)
Wong EY, Nikolov HN, Rankin RN, Holdsworth DW, Poepping TL. (2013) "Evaluation of distal turbulence intensity for the detection of both plaque ulceration and stenosis grade in the carotid bifurcation using clinical Doppler ultrasound." Eur. Radiol. 23(6):1720-1728.
Kefayati S and Poepping TL. (2013) "Transitional Flow Analysis in the Carotid Artery Bifurcation by Proper Orthogonal Decomposition and Particle Image Velocimetry." Med. Eng. Phys. 35(7):898-909.
Undergraduate:
Physics 1301: Introductory Physics I
Physics 1401: Physics for Engineering Students I
Physics 2600: Introduction to Medical Physics
Physics 3926: Computer Simulations in Physics


Graduate:
Physics 9640b: Biomedical Ultrasound
Ontario Ministry of Research & Innovation Early Researcher Award (ERA), 2010-2015
Editorial Board for Ultrasound journal, 2010–2012
Co-organizer, Artimino Ultrasound Conference, June 16-19, 2013, Lake Rousseau, Ontario
Member of Institute of Electrical and Electronics Engineers (IEEE)
Member of Canadian Institute of Physicists (CAP)
Member of Canadian Association of Medical Physicists (COMP)
Member of  Biomedical Imaging Research Centre (BIRC)