Eugene Wong, Professor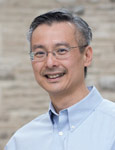 Contact Information
Office: PAB 233
Tel: (519) 661-2111 x80419
E-mail: ewong4@uwo.ca
Research Areas
Medical Physics
Oncology
Radiation Treatment
I am especially interested in the following areas of cancer research:
Image-guided adaptive radiotherapy 
Data collection and analyses for normal tissue complications and tumour dose-response relationships
Small animal imaging and radiotherapy
"Half brain irradiation in a murine model of breast cancer brain metastasis: magnetic resonance imaging and histological assessments of dose-response",  Zarghami N, Murrell DH, Jensen MD, Dick FA, Chambers AF, Foster PJ, Wong E, Radiat Oncol. 2018 Jun 1;13(1):104. doi: 10.1186/s13014-018-1028-8. PubMed PMID:29859114.


"A generalized parametric response mapping method for analysis of multi-parametric imaging: A feasibility study with application to glioblastoma", Lausch A, Yeung TP, Chen J, Law E, Wang Y, Urbini B, Donelli F, Manco L, Fainardi E, Lee TY, Wong E, Med Phys. 2017 Nov;44(11):6074-6084. doi: 10.1002/mp.12562. Epub 2017 Oct 13. PubMed PMID: 28875538.


"Cancer dissemination from a physical sciences perspective", Willaims K, Wong E, Leong H, Jackson D, Allan A, Chambers, AF, Convergent Science Physical Oncology 2016 

vol: 2

 

(2)

 pp: 023001.


"Small Animal Radiotherapy and Imaging", Magdalena Bazalova-Carter, Donna H. Murrell, Katie M. Parkins, John Ronald, Paula J. Foster, Edward Graves, Patrick Granton, and Eugene Wong, in Advances in Medical Physics Volume 6, July 2016, editors Devon J. Godfrey, Jacob Van Dyk, Shiva K. Das, Bruce H. Curran, and Anthony B. Wolbarst.

Determination and comparison of radiotherapy dose responses for hepatocellular carcinoma and metastatic colorectal liver tumours", Lausch A, Sinclair K, Lock M, Fisher B, Jensen N, Gaede S, Chen J, Wong E., The British journal of radiology, 2013.


"Detection of radiation-induced lung injury using hyperpolarized (13) C magnetic resonance spectroscopy and imaging", Thind K, Chen A, Friesen-Waldner L, Ouriadov A, Scholl TJ, Fox M, Wong E, Vandyk J, Hope A, Santyr G., Magnetic resonance in medicine : Official Journal of the Society of Magnetic Resonance in Medicine / Society of Magnetic Resonance in Medicine, 2012.