Andrea Soddu, Associate Professor
Andrea Soddu, Associate Professor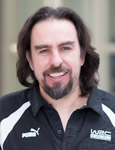 Contact Information
Office: PAB 122
Tel: (519) 661-2111 x82669
E-mail: asoddu@uwo.ca
Research Areas
Medical Physics (Neuroscience)
I am interested in the study of spontaneous brain activity using fMRI, global metabolism and structural connectivity using diffusion tensor imaging in patients with disorders of consciousness, hypnosis, anesthesia, tinnitus and dementia.
Soddu A, Vanhaudenhuyse A, Bahri M,  Bruno MA, Boly M, Demertzi A, Tshibanda JF, Phillips C, Stanziano M, Ovadia-Caro S, Nir Y, Maquet P, Papa M, Malach R, Laureys S, Noirhomme Q., "Identifying the Default Mode Component in Spatial IC Analysis of Patients with Disorders of Consciousness", Hum Brain Mapp. 2012, 33(4):778-96.
Maudoux A, Lefebvre Ph, Cabay JE, Demertzi A, Vanhaudenhuyse A, Laureys S, Soddu A, "Auditory resting-state fMRI activity in tinnitus: an IC analysis." PLoS One 2012, 7(5):e36222.
Hou WS, Nagashima M, Soddu A., "Difference in B+ and B0 direct CP asymmetry as effect of a fourth generation." Phys.Rev.Lett. 2005, 95:141601.
Mele B, Petrarca S, Soddu A., "A New evaluation of the t ---> cH decay width in the standard model." Phys.Lett.B 1998, 435:401-406.
 Medical Imaging Physics 2600B