Mahi R. Singh, Professor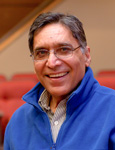 Contact Information
Office: PAB 116
Tel: (519) 661-2111 x86427
E-mail: msingh@uwo.ca
Research Areas
Transport
Optical Properties of Solids
Surfaces
Interfaces
Semiconductors
Nanostructures
Surfaces
Interfaces
High temperature superconductors
Photonic band gap materials
A. Hatef

 

and M. Singh

 

(2012), "Effect of magnetic field on a two-dimensional metallic photonic crystal", Physical Review A 86, 043839.
A. Hatef, S. Sadeghi and M. Singh

 

(2012), "Coherent molecular resonances in quantum dot-metallic nanoparticle systems: coherent self-renormalization and structural effects", Nanotechnology 23, 205203.
J. D. Cox, M. R. Singh, C. Racknor, and R. Agarwal (2011),

 

Switching in Polaritonic-Photonic Crystal Nanofibers Doped with Quantum Dots. Nano Letters | 3b2 | ver.9 |.