Pauline Barmby, Professor
Pauline Barmby, Professor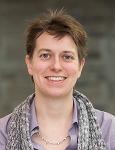 Contact Information
Office: PAB 204
Tel: (519) 661-2111 x81557
E-mail: pbarmby@uwo.ca

Group web page 
Twitter 
Research Areas
Observational studies of star formation and stellar populations in nearby galaxies;
Astroinformatics
I'm interested in  galaxies: how did they form and end up looking the way they do today? There are lots of different ways to attack this problem: my interest is in observational studies of both nearby galaxies and their star clusters and also distant, high-redshift galaxies. I've used quite a few different telescopes and instruments, with a lot of emphasis on infrared observations with the Spitzer Space Telescope.
Ashby, M. L. N.; Willner, S. P.; Fazio, G. G.; Huang, J.-S.; Arendt, R.; Barmby, P.; Barro, G.; Bell, E. F.; Bouwens, R.; Cattaneo, A., SEDS: The Spitzer Extended Deep Survey. Survey Design, Photometry, and Deep IRAC Source Counts, ApJ. 2013.
Huang, J.-S.; Faber, S. M.; Willmer, C. N. A.; Rigopoulou, D.; Koo, D.; Newman, J.; Shu, C.; Ashby, M. L. N.; Barmby, P.; Coil, A., Multi-Wavelength Study of a Complete IRAC 3.6 μm Selected Galaxy Sample: A Fair Census of Red and Blue Populations at Redshifts 0.4-1.2, ApJ. 2013
Vulic, N.; Barmby, P.; Gallagher, S. C., Stacking Star Clusters in M51: Searching for Faint X-Ray Binaries, ApJ. 2013.
Undergraduate:
Physics 1402B: Physics for Engineering Students II 

Graduate:
Astronomy 9610A:  Fundamentals of Modern Astronomy 
Ontario Early Researcher Award (2008)
Faculty of Science Outreach Award, 2010 (awarded to entire Astronomy group)
NASA Group Achievement Award, 2004 (awarded to the Spitzer Space Telescope Payload Team)
Member, Board of Directors, Canadian Astronomical Society
Member/chair, Telescope time review panels including CanTAC, Spitzer, Chandra
Member, Canadian Gemini Science Committee, CASCA ground-based astronomy committee
Chair, scientific organizing committee, Gemini Science Conference, 2012; CASCA 2011
Member, Gemini telescope Users' Committee
Chair, Outreach committee, Western Physics & Astronomy, 2011–present