March Break Open House a Success
March Break Open House a Success
On Saturday March 9, The atrium of the Phsyics & Astronomy building was a hive of activity as incoming undergraduates visited with friends and family to check out campus, sit in on a lecture, and get some information about programs they are interested in majoring (or minoring) in.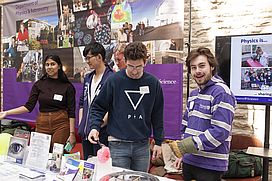 After the event wrapped downstairs, there was a special meet and greet in the 2nd floor lounge, where students who expressed an interest in Physics & Astronomy could connect with current students and alumni (l to r): 
Ivan Kosik – graduated Oct 2006, BSc 3 year, Physics.  graduated June 2001, BSc Honors Spec in Medical Physics. graduated Feb 2018, PhD Medical Biophysics, entrepreneur
Ian Mulholland – graduated Oct 2016, B Sc Honors Spec. in Astrophysics, now at Info-Tech
Jason Ng – graduated June 2018, B. E. Sc, Mechanical and Material Engineering with Professional Internship, BSc. (3 Year) now Engineer in training at Bruce Power
Adrian Mahjour – graduated June 2018, BSc Honors Spec in Astrophysics, currnetly at Western MSc candidate in Physics
Athy Aravinthan  - 3rd-year WISc, PASA outreach, CUPC org

March Break open House and the accompanying meet and greet would not have been successful without the time and dedication of our volunteers, who gave up part of their weekend to represent us to visiting students and parents.
Particular thanks to all the undergraduate students [Athy Aravinthan, Julia Bruce-Robertson, Connor Carter, Tim Hallatt, Sean Huggins, Joseph Li, Matt McCready, Victoria Pinnegar, and Nick Popiel] who ran our table so enthusiastically, as well as all our faculty and staff volunteers, especially Tamie, Jen, Phin and Sab for their fantastic organizational skills.