Jan Cami Wins 2019 Qilak Award
Jan Cami Wins 2019 Qilak Award
The Department of Physics and Astronomy is proud to report that Professor Jan Cami has been awarded the 2019 Qilak Award for Astronomy Communications, Public Education and Outreach from the Canadian Astronomical Society (CASCA).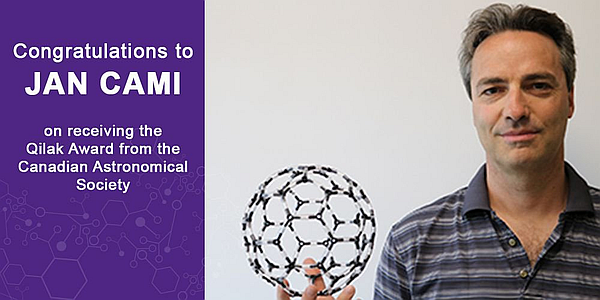 CASCA's official announcement:
CASCA is pleased to announce Dr. Jan Cami from the University of Western Ontario as the recipient of the 2019 Qilak Award.
Dr. Cami obtained his PhD from the University of Amsterdam and has been the director and coordinator of Western's historic Hume Cronyn Memorial Observatory since 2010. His work in outreach spans both large public gatherings and hands-on exhibits within the Observatory. In addition to this work at the Observatory, Dr. Cami is the Associate Director of Western's Centre for Planetary Science and eXploration (CPSX) and is Western's main organizer for the Science Rendezvous festival. On the national level, Dr. Cami has served for 10 years on CASCA's Education and Public Outreach Committee, during which time he supported the development of the online platform Discover the Universe. Dr. Cami's enthusiasm for outreach and his ability to ask 'how we can' rather than the 'if we can' about any activity makes him an ideal Qilak recipient.
CASCA is delighted to recognise Dr. Cami's efforts with this award.
Here in the department we are delighted as well. Congratulations Jan on this well-deserved honour!