Home page for the textbook
"Physical Processes in the Solar System"
by Dr. John D. Landstreet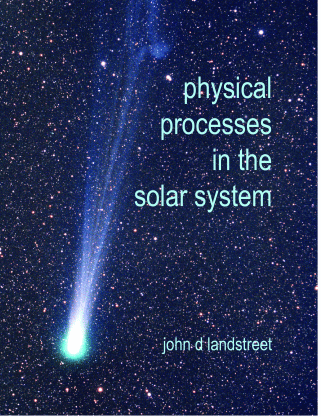 The cover of my recent intermediate level textbook on the Solar System.
The beautiful comet image is the work of Dominique Dierick of Gent, Belgium.
About "Physical Processes in the Solar System"
The book is now out of print. We are not planning to reprint it. However, we can supply a pdf copy of the text to course instructors who still wish to use it.

A unique textbook on the physics of the solar system for advanced undergraduates, based on courses (Astronomy 221 & 231, the Solar System) offered by the author at the University of Western Ontario during 20 years

Up-to-date discussions of the physics, structure and evolution of planets, moons, asteroids, comets, meteors and meteorites, and of the solar system as a whole

Suitable for 2nd to 4th year course for physics and astronomy majors, or for a second general interest course for students with some first year university physical science background

Conceptual material separated from mathematical and quantitative physics material to facilitate use in either a specialist or a non-specialist course, or even both together

Strong emphasis on physics and physical reasoning throughout, in both conceptual and mathematical sections

Mathematical physics sections require only first year physics and calculus, and much of the physics needed is reviewed in the book

Many small exercises embedded in the text; review question, suggestions for further reading, and challenging problems at the end of each chapter

350 + viii pages, 8 1/2 x 11 inches, softcover, copiously illustrated with graphs, diagrams and halftone images

Adopted at numerous universities for courses, including University of Waterloo, University of California at Berkeley, University of Virginia, and Purdue University
UPDATED Classroom support for "Physical Processes in the Solar System"
To supplement the text, you can follow this link to find larger colour copies of most images, as well as the graphs and drawings from the text. These images are set up as a slide show for professors to show and discuss in class. They can also be downloaded by students for individual study (and enjoyment).

Resources for students, including useful tools and data for end-of-chapter problems, are available here .

NEW A list of errors found in the printed text is available here . It has recently been updated (20 August 2004).

Solutions to the end-of-chapter problems are available to instructors who adopt the text for a course.
Professor of Physics and Astronomy at the University of Western Ontario

Active researcher in the field of modelling of stellar spectra and physics of stellar magnetism

Winner of the Carlyle S. Beals Award of the Canadian Astronomical Society, for outstanding achievement in research

Former Chair of both Scientific Advisory Council and Board of Directors of the Canada-France-Hawaii Telescope Corporation

Former President of the Canadian Astronomical Society
Some samples of the book:
(If these files display badly on the screen, try printing them out.)
Ordering information



Keenan & Darlington, Publishers
18 Rollingwood Circle
London, Ontario, Canada N6G 1P7

Telephone: +1 (519) 473-4174
Telefax +1 (519) 473-4174
E-mail:jlandstr-at-uwo-dot-ca



Last modified: 2010 Apr 14