Your private Night at the Cronyn Observatory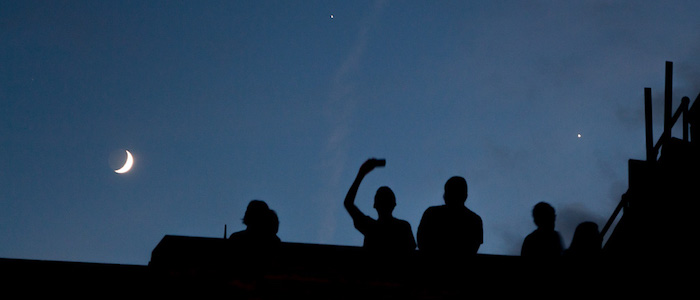 Book your own Night at the Observatory and enjoy an evening with a professional astronomer as your private guide to the skies and the observatory. For individuals or groups up to 20 persons.
Your private Night at the Observatory with a Personal Astronomer
Would you like a chance to look through our telescopes without having to wait in line? Or celebrate a life event under the starry skies? Are you maybe looking for an enjoyable evening with family, friends, your loved one(s) or colleagues? Then why not consider booking your own private Night at the Observatory?
Your Personal Astronomer (PA) will first assist you in finding the perfect date and time to visit the Observatory - based on your preferences and wishes - and providing you with a detailed weather forecast and outlook the day before your event. During your visit, your PA will point our telescopes (including our flagship 25.4 cm refractor) at the objects of your choice, give you ample time to enjoy the views, and take pictures of the brightest objects in addition to answering any questions you may have. Objects viewed vary with the season and your wishes, but might include the Moon, planets, binary stars, star clusters, star forming regions, reflection or emission nebulae, planetary nebulae, or galaxies. Your evening can also include a tour of our Observatory, with private views of our historical displays: the Observatory office as it was in 1940 and our 1967 telescope control room.Your PA will also be happy to fire up our astronomical demonstrations for you and your company.
In the event of cloudy skies, you can choose to go ahead with the evening (with the understanding that stargazing may not be an option), or you can reschedule at no extra cost. Keep in mind that during our Fall and Winter months, cloudy skies are unfortunately the norm rather than the exception, and the Observatory is used frequently year round. Furthermore, clear nights in winter tend to be very cold, so be prepared to spend time outside in the cold!
The cost for your private Night at the Observatory is $150/hour, one hour minimum, for individuals and groups up to 20, and depending on Observatory and staff availability. Payment is due when you arrive for your evening, payable in cash or by cheque to the University of Western Ontario (we are unable to process credit cards). For more information or to inquire about possible dates, please contact us at cronyn@uwo.ca.
Note that if you are looking for a less expensive group educational event, our Exploring the Stars program may be just what you're looking for!